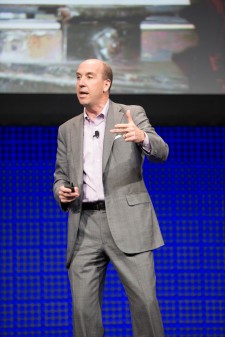 Global futurist Jack Uldrich is confirmed to deliver the keynote on the future of higher education at one of Canada's leading educational institutions on August 25.
Toronto, Ontario, August 23, 2016 (Newswire.com) - Regarded around the world for his writing and speaking, global futurist Jack Uldrich finds himself particularly drawn to the subject of higher education. His daughter is in the midst of applying for college this year and his son will begin the process in just a few short years as well.
"How," Uldrich asks, "in the face of college tuition increasing 400 percent since 1982, can brick and mortar institutions stay viable?" Many students are either graduating woefully under-prepared for the workplace or deep in debt and, often, both. Compounding the problem further is the fact that alternatives to a typical college degree are only getting better.
As technology continues to improve and new practitioners reinvent and begin to master the art of delivering effective, personalized instruction to millions of individuals higher education as we know will alter radically.

Jack Uldrich, Global Futurist
Uldrich has been invited to deliver a keynote for one of Canada's leading education institutions 50th Anniversary celebration in Toronto this week. In his presentation he will discuss the impact of unlearning. He says that the skill of "unlearning outmoded behavior will take higher education to a whole new realm."
The irony of a learning institution adopting unlearning as a primary skill set is not lost on Uldrich. He often quotes Lao Tzu; "In order to attain knowledge add something every day. In order to attain wisdom subtract something every day." Uldrich says, "Embracing paradox is paramount to success."
The emphasis of Uldrich's keynote will focus on, "the art of asking questions, staying curious and preparing students for jobs and industries that don't yet exist."
He says traditional colleges and universities will have to assess how they can embrace MOOCs along with several other technological trends, such as Big Data, the Internet of Things, Artificial Intelligence, gaming dynamics as well as chatbots, Blockchain and peer to peer lending in the coming years.
While he admits he looks forward to his own kids attending brick and mortar institutions, he keeps an open mind when it comes to MOOCs and other advances in education being a part of their future higher education.
Uldrich has addressed dozens of educational groups and associations, including the Southwest School of Banking, University of Wisconsin's School of Business, Morehead State University, the European Association for International Education, Indiana University, The Council of Great Lakes Schools, The University of Minnesota's Carlson School of Business, Educational Services of America, Belmont University, among others.
He is currently represented by a number of professional speakers' bureaus, including Leading Authorities and Executive Speakers Bureau.
More information on Jack Uldrich can be found here.
Source: The School of Unlearning
Share: