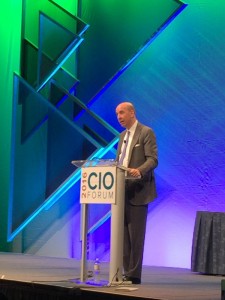 Best-selling author Jack Uldrich will be presenting his research and insights on how to use techniques like unlearning to think like a futurist when planning for the future in risk management
ST. PAUL, Minn., September 25, 2018 (Newswire.com) - Global futurist Jack Uldrich will be presenting the opening keynote this afternoon at the Minnesota Department of Administration's Safety & Loss Conference being held in St. Paul. His presentation, The Future Requires "Unlearning," will help leaders there be better prepared for the future by showing them new approaches to think about change differently. This includes how to spot emerging opportunities created by advancements in technology.
In his presentations, Uldrich paints vivid pictures of what the world may look like in just a few short years due to these advancements. In today's keynote, he will present his research on how technologies including connected devices, big data, "cobots," nanotechnology, artificial intelligence, renewable energy and even quantum computing could be used to keep workers safer in the near future.
Smart companies hire futurists to survive. Wise companies learn how to think like a futurist and instill a 'future mindset' throughout their organization.

Jack Uldrich, Futurist & Founder of the School of Unlearning
As a futurist, Uldrich not only talks about cutting-edge technologies that organizations need to start leveraging, he also motivates his clients to shift their organizational mindsets. As the founder of the School of Unlearning, he makes it a priority to identify specific ways his audiences can "unlearn obsolete means of thinking that no longer serve them."
"As we continue to make these exponential leaps at an unparalleled pace, we must take more time to think. In a world where gratification is, for the most part, instantaneous, it is of the utmost importance that we start to take time out to pause and consider what to embrace and what to let go of."
A lover of paradox, Uldrich says that blending the old with the new and taking the time to slow down as things are speeding up makes good sense. It's simply a matter of unlearning of habits. His aim is to help his audiences unlearn the barriers currently holding them back so they can unlock new levels of creativity and innovation.
Helping companies, associations and other organizations explore the possibilities of what the future may bring is a fundamental component of what futurists do. Uldrich, one of the elite speakers in this unique group, frequently addresses organizations in a wide variety of industries, including Agriculture, Utilities, Wealth Management, Health Care, Insurance, Banking and Hospitality.
In his speaking engagements, Uldrich often cites the ancient Chinese philosopher Lao Tzu: "To attain knowledge, add things every day. To attain wisdom, remove things every day."
Taking that idea a step further, Uldrich says, "Smart companies hire futurists to survive. Wise companies learn how to think like a futurist and instill a 'future mindset' throughout their organization." This is equally true for government organizations.
"Learning how to take action in the face of uncertainty, ambiguity and rapidly changing conditions are critical to every organization's success," says Uldrich.
Jack Uldrich is a global futurist, international keynote speaker and the author of 11 books, including Foresight 2020: A Futurist Explores the Trends Transforming the World of Tomorrow. He can be reached via www.jackuldrich.com.
Source: Jack Uldrich & The School of Unlearning
Share: