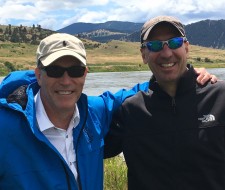 FCC Services is partnering with globally recognized leadership experts to bring to their clients two three-day experiential seminars this month
GREAT FALLS, Mont., September 5, 2018 (Newswire.com) - Global futurist Jack Uldrich will join Jeff Appelquist today to begin their acclaimed three-day experiential leadership seminar. Once again they will be partnering with FCC Services, an organization that has been helping clients achieve their organizational and operational goals since 1975. FCC Services' clients will bring leaders, directors and teams to this renowned program, "Lewis & Clark: Into the Unknown." Board governance and leadership development have been cornerstones of their work from the start. Other programs and services they offer include board development, executive coaching, thought leadership/professional speakers, strategic talent management, facilitation and consulting. Uldrich and Appelquist will return to Montana next week for a second seminar beginning on Sept. 12.
The story of Meriwether Lewis and William Clark is one of futurist Jack Uldrich's favorite historical accounts, and one that he believes is still highly relevant for today's business leaders. Their story and its lessons for today's leaders were so compelling to him that in 2004, he decided to write a book about it: Into the Unknown: Leadership Lessons from Lewis & Clark's Daring Westward Expedition.
From now on, tomorrow is going to be radically different than either yesterday or today. We need more leaders with the courage of Lewis and Clark. Leaders who are willing to unlearn their old ways and chart brave new courses into the unknown.

Jack Uldrich, Futurist & Founder of the School of Unlearning
The resulting award-winning book was well-received by business leaders, including this review by The Executive Insider: "Imagine a Ken Burns documentary with insightful analysis from Jack Welch and you have a sense of the informative and engaging approach Uldrich utilizes."
Based on the book and his extensive knowledge of this historic journey, Uldrich then partnered with Jeff Appelquist of BlueKnight Leadership to create a three-day experiential leadership seminar in Great Falls, Montana. They have been partnering for eight years to take business leaders on expeditions based upon Lewis and Clark's historic adventures.
Uldrich and Appelquist are both Minneapolis-based businessmen and they share the experience of being former military officers and a mutual interest in applying lessons learned in historical events to modern leadership challenges. Uldrich is a futurist, consultant and founder of The School of Unlearning. Appelquist is a lawyer and a former Target and Best Buy manager. Both men are award-winning authors.
Their three-day experiential seminar is designed to help the business leaders anticipate change and develop leadership skills by emulating Lewis and Clark's daring journey into the Northwest Territories in the early 1800s. "It was the 19th-century equivalent of putting a man on the moon," Appelquist says. "It was a metaphor for venturing into the unknown, what every business organization has to do, whether they like it or not."
Although Lewis and Clark were old-school military men, they were very forward-thinking. They arranged a diverse team, including a native American woman, and they were flexible when it came to discipline. They emphasized encouragement and reward over punitive measures.
What makes their expedition relevant today?
"Lewis and Clark took rational risks, hedged their bets and sometimes went backward to take stock. When they reached the headwaters of the Missouri, they fully expected to see a river that would lead them to the West Coast," says Uldrich. "All they saw were hundreds of miles of mountains. There will always be challenges and for those, the leadership lessons provided by Lewis and Clark are timeless."
He also says that embracing paradox when forging ahead is a powerful technique - meaning that wise leaders do in fact, look back, before they move ahead. That's what this course in Great Falls is all about, he says, "Walking in the footsteps of our ancestors to steady our future course."
"From now on," Uldrich says, "Tomorrow is going to be radically different than either yesterday or today. We need more leaders with the courage of Lewis and Clark. Leaders who are willing to unlearn their old ways and chart brave new courses into the unknown."
To learn more about Uldrich and his speaking availability, please visit JackUldrich.com. For more information about Jeff Appelquist, please visit BlueKnightLeadership.com. For more information on future "Into the Unknown" leadership experiences, FCC Services or their leadership and governance development programs, go to www.FCCServices.com.
Source: Jack Uldrich & The School of Unlearning
Share: