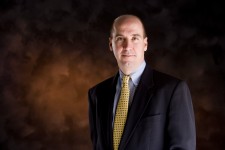 Futurist Jack Uldrich is confirmed to deliver the closing keynote at the ILCMA (Illinois City/County Management Association) 2017 Conference in Peoria, IL on February 10.
Chicago, IL, February 8, 2017 (Newswire.com) - Transformational Technology. That is just one of the subjects global futurist Jack Uldrich focuses on in his research, writing and speaking.
"The rate of change in technology is happening at an astounding pace," says Uldrich. "There are an extraordinary amount of technologies that are currently doubling, and they may increase as many as ten times in the coming decade. Tens will become thousands; thousands will become millions and millions will catapult into billions. This exponential growth is something many people have yet to grasp. And it's one of the core tenets of being on the 'right side of the future.'"
The recent upswing in the sharing economy alone is changing the shape of city economies everywhere.

Jack Uldrich, Urban Futurist
When it comes to urban planning Uldrich encourages his clients to be aware of the trends in sustainable energy, manufacturing, and transportation--particularly autonomous vehicles. He also says collaborative consumption will continue to radically shift both urban and rural cultures.
"The recent upswing in the sharing economy alone is changing the shape of city economies everywhere," says Uldrich.
In his keynote for ILCMA, "The Big AHA: How to Future_proof Your City/County Against Tomorrow's Transformational Trends: Today", Uldrich will focus on his concept of leadership which is the "Big AHA".
AHA is Uldrich's acronym for Awareness, Humility, and Action. He believes by utilizing these three elements leaders will have a firm foundation set in place for future-proofing their organization.
Uldrich's client list includes the City of Glendora, CA, the 2016 Wyoming Governor's Forum, the Savannah Economic Development Agency, the Downtown Council of Minneapolis, the Chattanooga Chamber of Commerce, the Miami Downtown Development Agency, and the Urban Land Institute. He also speaks around the world on unlearning, change management, and technological advances in energy and utilities, manufacturing, education, healthcare, retail, and finance.
Parties interested in more information on Jack, his upcoming engagements and writing may view his website here.
Source: Jack Uldrich & The School of Unlearning
Share: