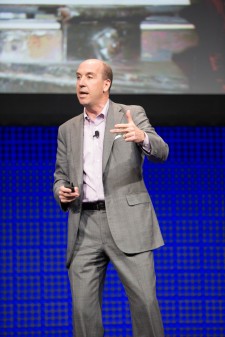 Rapidly advancing technologies promise a significant change in agriculture in the coming years. Futurist Jack Uldrich is in Fargo today to share his research and perspective on what industry leaders might expect.
FARGO, N.D., January 23, 2019 (Newswire.com) - New technologies and trends are constantly reshaping our world, and this is especially true in agriculture. Growing demands on food production require new approaches. Futurist Jack Uldrich believes that many of these trends technologies will have a big impact on agriculture over the next few years and allow us to feed the world more efficiently and use methods that are better for the environment.
Uldrich will be speaking today in Fargo at the AgCountry Marketing Day Navigating the Crosswinds of Agriculture Conference on the future of agriculture and how industry leaders can spot opportunities created by all this change.
In his presentation, titled "The Future of Farming: The Big AHA," Uldrich will identify key trends and technologies impacting the future of agriculture. These include recent advancements in artificial intelligence, satellites, robotics, sensors, drones, and the internet of things, as well improvements in predictive analytics and new platforms to efficiently manage today's connected devices. AHA is Uldrich's acronym for Awareness, Humility, and Action which he says, "are the cornerstone of great leadership."
Often, advancements in seemingly unrelated areas can also create new opportunities. LED lighting is a great example of this. As rapid improvements in LED lights increased their efficiency and lifespan and drove their cost down, indoor "vertical gardens" that use these lights became far more viable. Additionally, monitoring devices and other sensors, and software to manage operations improved at the same time and further lowered production costs. Uldrich believes that the convergence of separate advancements, like LED lighting, will continue to create unexpected advancements in agriculture.
"Alone," Uldrich says, "each advance is only a part of the solution. Together, however, they constitute a formidable path to meeting the dietary needs of a burgeoning world."
He continues, "I'm confident, that innovative farmers and agri-businesses will step up to the plate (no pun intended) and meet the rising global challenges of feeding the growing world population."
Known the world over for his assessment of technological trends and their effect on our society, he is a highly acclaimed speaker for ag-based audiences. Uldrich's many agricultural clients include Bayer CropScience, Northwest Farm Credit Services, the Minnesota Dairy Council, Land O'Lakes, Case IH, The Agricultural Adaptation Council of Ontario, AgGateway, the California Ag Summit, Midwest Dairy Association, South Dakota Wheat Growers, Colorado Wheat Growers, Agricultural Production Executives Association the Canola Council of Canada's Annual Meeting, the Indiana Farm Bureau Agricultural Production Executives Association, Ag Partners, AgGateway, and the California Ag Summit. Other industries that Uldrich addresses include Insurance, Finance, Education, and Manufacturing.
To learn more about Jack Uldrich, his work in the agriculture industry, or his speaking availability, please visit JackUldrich.com.
Source: Jack Uldrich & The School of Unlearning
Share: