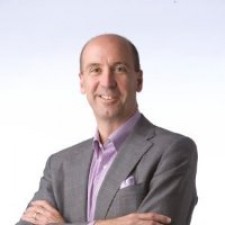 Best-selling author and acclaimed futurist will lead two three-day experiential leadership seminars in Montana this month, as well as keynote events in Texas, New York, Florida, Minnesota, and California
MINNEAPOLIS, September 5, 2018 (Newswire.com) - Global futurist Jack Uldrich begins his fall speaking schedule with a busy September. His first event this month finds him returning to Great Falls, MT and once again partnering with FCC Services, and Minneapolis-based leadership expert Jeff Appelquist. This will be the first of two three-day experiential leadership seminars that will take place in Great Falls this month. In addition to these seminars, Uldrich will be addressing leaders in a variety of industries in September, including insurance, banking, health care, and IT services.
His keynotes will focus on leadership, emerging trends and technologies, and how executives and other leaders can "future-proof" their businesses in a time of rapid change. According to Uldrich, "Powered by rapidly emerging and converging technologies, the world today is changing faster than ever. These changes are happening worldwide, and not one of the industries I address is immune to the shifts."
You can either be humble about the future, or be humbled by the future.

Jack Uldrich, Global Futurist & Best-Selling Author
He continues, "Thinking like a futurist involves appreciating how the world of tomorrow is changing. Far too often companies are fixated on issues that are front and center, or at times, they are stuck dealing with issues from the past. They aren't taking time out to reflect on what the future will hold in store."
In his customized presentations, Uldrich frequently talks not just about the importance of being aware of new technology, but also the ability to unlearn old ways of doing things that may no longer be relevant in our fast-changing world. A big part of future-proofing is recognizing that "business-as-usual" may not be an acceptable strategy in the future. With this in mind, Uldrich encourages leaders to consider the following: "You can either be humble about the future or be humbled by the future."
His scheduled events this month include:
September 5: Into the Unknown: Leadership Lessons from Lewis & Clark's Daring Westward Expedition - FCCServices - Great Falls, Montana
September 11: Future Trends in the Building Industry - BICSI - San Antonio, TX
September 12: Into the Unknown: Leadership Lessons from Lewis & Clark's Daring Westward Expedition - FCCServices - Great Falls, Montana
September 15: Future Trends in Health Care - New York Healthcare Trustees - Saratoga Springs, NY
September 18: Private Event - Florida
September 19: Future Trends in Information Technology - CommWorks - Minneapolis, MN
September 21: Future Trends in Banking - BankDirect Finance - Newport Beach, CA
September 25: Future Trends in Insurance & Risk Management - Department of Administration/Risk Management Division - St. Paul, MN
The author of eleven books, including The Next Big Thing is Really Small: How Nanotechnology will Change the Future of Your Business; and Jump the Curve: 50 Strategies to Help Your Company Stay Ahead of Technology, Uldrich travels the world sharing his insights on the latest technological trends and how companies can capitalize on the opportunities created by change. He is also an ongoing contributor to emerging technologies and future trends for publications including The Wall Street Journal, Forbes, Wired Magazine and BusinessWeek.
Uldrich speaks at over a hundred events each year, and his recent client list includes Banamex, Global Atlantic, Invesco, National Ocean Industries Association, American Public Power, the National Rural Electric Cooperative Association, Emerson, AgPartners, STORE Company, FedEx, Verizon, and the U.S. Chamber of Commerce.
To learn more about Jack Uldrich, his books, his blog or his speaking availability, please visit his website.
Source: Jack Uldrich & The School of Unlearning
Share: