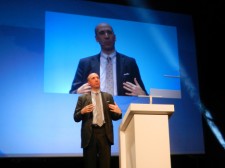 Jack Uldrich, Futurist, to be Keynote Speaker at this year's Wolcott J Humphrey III Symposium on Leadership and Community Life at Genesee Community College in Batavia, NY.
Minneapolis, MN, September 20, 2016 (Newswire.com) - Jack Uldrich paints vivid pictures of what the world may look like in just a few short years. He researches and provides in-depth explorations of how the "Internet of Things," "Big Data," social media, robotics, biotechnology, nanotechnology, artificial intelligence, renewable energy and "collaborative consumption" will change everyday life for all of us in the very near future.
On Thursday, September 22, Uldrich will serve as the keynote speaker celebrating the 50th Anniversary of Genesee Community College.
Educators and students alike need to start recognizing and embracing the notion that unlearning is a critical life-long skill.

Jack Uldrich, Futurist & Founder of The School of Unlearning
A graduate of the University of Minnesota's Humphrey Institute Uldrich has traveled the world as a public speaker and written 11 books on leadership, investing, emerging technological trends, change management and unlearning.
Beyond addressing a broad range of educational trends, including open-source educational platforms (such as Coursera, EdX, and Udacity), mobile web communications, interactive and customizable e-books, gaming dynamics, augmented reality, artificial intelligence, and crowdsourcing; Uldrich also will tackle how these trends are transforming the student and teacher relationship. He will also discuss what the leaders at Genesee must do today to get ahead of tomorrow's coming changes.
Uldrich addresses dozens of educational groups and associations throughout the year. His clients have included EAIE, The University of Wisconsin School of Business, Cleveland Community College, Indiana University, The University of Minnesota's Carlson School of Business, Educational Services of America, Belmont University, The League of Innovation, and The American Technical Education Association. He also addresses major corporations and institutions including Wells Fargo, Verizon Wireless, ABB, Cisco, IBM, PepsiCo, United Healthcare, WiPro, and General Electric.
Parties interested in learning more about him, his books, his daily blog or his speaking availability are encouraged to visit his website.
Source: The School of Unlearning
Share: