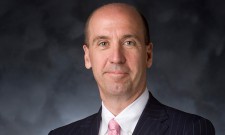 Health care futurist Jack Uldrich is in Dallas today to share his insights on how industry leaders can adapt and thrive in a fast-changing world.
DALLAS, October 23, 2018 (Newswire.com) - Like almost all other industries today, health care is experiencing radical change due to rapid advancements in technology. Health care futurist Jack Uldrich will address many of those changes in his keynote speech at today at Health Care Service Corporation's Blue University Development Week in Dallas, Texas today.
As a futurist specializing in health care, Uldrich makes it his mission to help industry leaders adapt and thrive in our fast-changing future. He says, "If you want to stay on the right side of the future, the first thing to do is to acknowledge that the future will be different, perhaps radically different than the present."
It is not enough to deeply understand how one technology works. You have to understand how multiple technologies will converge to spin off to create new opportunities.

Jack Uldrich, Global Futurist & Best-Selling Author
Some of the trends that are shaping the future of preventing, diagnosing, and treating disease include rapid advancements in genomics, personal robotics, new 3D printing materials, and processes, accelerating capabilities in artificial intelligence, predictive analytics, advancements in nanotech, and improving methods to store and search data.
As a futurist, Uldrich also helps leaders "connect-the-dots" and think like a futurist with examples of some unexpected impacts of seemingly unrelated trends. Ride sharing is a good example of this. Health care providers have begun partnering with Uber and Lyft to help patients make it to appointments that they otherwise may have missed due to lack of transportation. For the providers, the cost of the ride is well worth it to make sure the patients can see their doctor or nurse. This will be just one of many examples he will use today to illustrate how new technology will force us to think about the future differently.
Regarding his work, Uldrich says: "It is not enough to deeply understand how one technology works. You have to understand how multiple technologies will converge to spin off to create new opportunities. The work I do is all about helping organizations prepare for the coming technological changes so that they can efficiently navigate and determine the course of their future."
In addition to the specific trends and technologies that could impact the future of health care, Uldrich will focus on why health care professionals must embrace the concept of unlearning in order to achieve future success.
Hailed as "America's Chief Unlearning Officer," by Businessweek, Uldrich will conclude his keynote by reviewing specific habits, customs, beliefs and ideas that health care professionals can — and must — unlearn to survive and thrive in the future.
Uldrich says, "Organizations must strive to enhance their awareness of changes on the horizon; have enough humility to acknowledge that what served the business well in the past might not be sufficient tomorrow, and they need to be willing to take action in the face of less-than-perfect information."
As a specialist in health care trends, Uldrich has addressed dozens of health care associations and hospitals, including the American Medical Association, the American Academy of Audiology, the American Academy of Neurologists, Bausch and Lomb, Boston Scientific, Alcatel-Lucent/Verizon Forum on Wireless Healthcare, United Healthcare, IASIS Healthcare, Allina Hospitals, The Healthcare Trustees of New York, and St. Jude Medical.
For more information on Uldrich, his work in healthcare, or his speaking availability, please visit JackUldrich.com.
Source: Jack Uldrich & The School of Unlearning
Share: