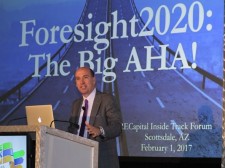 2017 was an unprecedented year of speaking engagements and workshops for Global Futurist Jack Uldrich. He delivered over 100 keynotes around the world and wrote close to 30 articles on future technological trends. Before moving ahead into 2018, he has published two final articles for the year including his annual 'predictions' and his top 10 game-changing technologies list.
MINNEAPOLIS, December 29, 2017 (Newswire.com) - In December of 2016, Futurist Jack Uldrich wrote in The Minneapolis Star and Tribune that, "You can expect 2017 to be the year the future takes root. Shortly after that, the future will begin bearing some serious fruit."
But in between all of the presidential tweets, catastrophic rainstorms, fires and hurricanes, sexual harassment scandals and Bitcoin mania, Uldrich says it may have been hard to spot the incredible yields of the year.
Technological change is accelerating at a dizzying speed and, as it does, society needs to evolve right along with it through learning and unlearning ways of being.

Jack Uldrich, Global Futurist & Author
"Technological change is accelerating at a dizzying speed and, as it does, society needs to evolve right along with it through learning and unlearning ways of being. But we can't always see the forest for the trees especially when life is as chaotic as it was this past year."
Throughout 2017 there have been some juicy technological developments. There are 10 in particular that Jack Uldrich believes could be real "game-changers," and he wants audiences everywhere to know about them.
While the majority of these game-changers relate to health care, Uldrich is quick to point out that the advances he highlights, such as artificial intelligence, self-learning computer chips and quantum software, will accelerate progress in a myriad of other industries as well.
He says, "Quantum computers already exist and by the end of 2018, Google hopes to achieve 'quantum supremacy' by using a quantum computer to do something that is beyond the power of a conventional computer. The quantum age is likely to arrive sooner than most people expect and the possibilities this creates are astounding."
Another example of powerful and cutting-edge software is Intel's new Loihi computer chip – a "self-learning neuromorphic computer chip." The chip mimics the human brain and gets smarter over time by continually using data to learn and make inferences.
Uldrich's top 10 list is indeed widespread. While he covers developments in cryptocurrency, genetic sleuthing and chemical surgery, he also focuses on new technology for agriculture. In fact, his list includes a newly created grain of rice that can be grown in unused and under-utilized areas, suggesting that 100 billion pounds of additional rice could be produced annually. Uldrich says a yield of that size is enough to feed 200 million people.
In addition to his top 10 list, Uldrich also pens his annual column of predictions for the coming year.
He says his predictions are offered in the spirit of light-hearted fun and are not intended to be taken literally. Each merely reflects a broader trend that readers can expect to see, experience or read about in the coming year.
It does indeed appear that Uldrich's 2016 prediction of 2017 being the year for the future to take root was accurate. And 2018 looks to be a year in which more seeds are spread generating higher results to then be shared throughout the world.
Jack Uldrich is a global futurist, popular keynote speaker and the author of 11 books, including Foresight 2020: A Futurist Explores the Trends Transforming the World of Tomorrow. He can be reached at www.jackuldrich.com or jack@jackuldrich.com.
Source: Jack Uldrich & The School of Unlearning
Share: