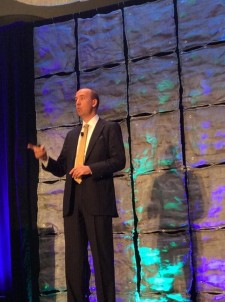 Jack Uldrich, global futurist, and Founder of the School of Unlearning will deliver a keynote address to IAMC today in Indianapolis.
Indianapolis, IN, October 10, 2016 (Newswire.com) - "From self-driving cars to Mars 2020, the future is now. The "Internet of Things" for manufacturing is on the horizon, making factories smarter and bringing about the impending fourth industrial revolution."
Futurist Jack Uldrich will address the technological trends on the horizon that will impact the forthcoming fourth industrial revolution at the IAMC 2016 Fall Forum.
The future will belong to those who have the ability to see things from multiple perspectives.

Jack Uldrich, Global Futurist
Uldrich will offer the IAMC audience an in-depth exploration of the top twelve tech trends that include Nanotechnology, robotics, 3D printers, wearable technology and the Internet of Things.
As the founder of The School of Unlearning, Uldrich will also address the mindset necessary to leverage the changes coming.
Uldrich says in addition to understanding and harnessing the new technologies, "The future will belong to those who have the ability to see things from multiple perspectives."
Traveling the world speaking on future trends, emerging technologies, innovation change management, and leadership, his manufacturing clients include the Precision Metalforming Association (PMA,) ABB, Stiles, Siemens, the IBD, and the Packaging Machinery Manufacturers Institute (PMMI.)
He is the author of 11 books, including the award-winning bestsellers: The Next Big Thing is Really Small: How Nanotechnology Will Change the Future of Your Business and Jump the Curve: 50 Essential Strategies to Help Your Company Stay Ahead of Emerging Technology. His most recent book is Foresight 20/20: A Futurist Explores the Trends Transforming Tomorrow.
Following his keynote in Indianapolis, Uldrich will head to Glendora, California to speak on the future of cities.
Parties interested in learning more about these events or Jack as a keynote speaker may contact him here.
Source: The School of Unlearning
Share: