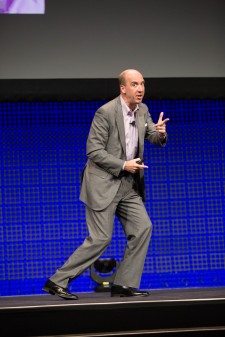 Minneapolis, MN, August 25, 2016 (Newswire.com) - This Saturday, August 27, Jack Uldrich, the founder of The School of Unlearning, will address a leading architectural and construction group in Minneapolis.
Following his keynote on future trends in the field, he will lead an interactive breakout session. Uldrich will facilitate a deeper conversation focused on helping them think more strategically about positioning their business for the future. Uldrich is a firm believer in questions being used to provide greater confidence; taking "think weeks," and finding "reverse mentors," and he will discuss the benefits of each of these actions.
"Architects, like entrepreneurs, are curious and open-minded—they tend toward innovation."

Jack Uldrich, Futurist
When it comes to trends affecting the future of the industry Uldrich says they will range widely. From the obvious innovations like 3D printing, computer power, artificial intelligence, robots to the not so obvious influences of peer to peer lending and the sharing economy. He says, "While tiny houses may be the rage right now when it comes to slowing urban sprawl, thinking up and not out may be a key to the future as well. Meaning skyscrapers will increase, and help keep a cap on the outbound spread."
Recently quoted in Forbes, Uldrich is also a proponent of, and will speak on, what he calls the "Big AHA."
In the article by Mike Montgomery, Uldrich says, "The most successful entrepreneurs he works with practice awareness, humility, and action. Entrepreneurs need to be aware that thinking has leaped from linear to exponential. They need to be humble enough to know that what worked well yesterday might not today. And they need to be willing to take a risk, even if all of the information isn't perfect. In this world, it's not enough to deeply understand how one technology works. You have to understand how technologies will converge to spin off to create new opportunities."
Uldrich says. "Architects, like entrepreneurs, are curious and open-minded—they tend toward innovation."
His manufacturing clients include the Urban Land Institute (ULI), Precision Metalforming Association (PMA,) Stiles, Siemens, the IBD, and the Packaging Machinery Manufacturers Institute (PMMI.)
Jack Uldrich is the author of 11 books, including the award-winning bestsellers: The Next Big Thing is Really Small: How Nanotechnology Will Change the Future of Your Business and Jump the Curve: 50 Essential Strategies to Help Your Company Stay Ahead of Emerging Technology. His most recent book is Foresight 20/20: A Futurist Explores the Trends Transforming Tomorrow.
Parties interested in learning more about him, his books, his daily blog or his speaking availability are encouraged to visit his website.
Source: The School of Unlearning
Share: