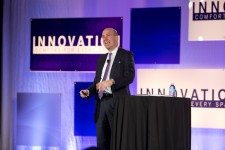 Global futurist and best selling author Jack Uldrich is confirmed to deliver the keynote speech for the Dairy Business Association in Madison, WI on January 18.
Madison, WI, January 12, 2017 (Newswire.com) - When it comes to the world of dairy farming, Global Futurist Jack Uldrich says, "Innovation in the field starts with imagination."
"Dairy farmers, producers and leaders will profit from taking time out to ponder the future." Taking time out to think about the future is a common theme in Uldrich's keynote speeches.
Innovation starts with imagination.

Jack Uldrich, Agriculture Futurist
"With all due respect to Fleetwood Mac," Uldrich says, "most people can't stop thinking about tomorrow because they never actually do so in the first place."
Learning to unlearn, thinking about the unthinkable, recognizing failure as a key component of success, and understanding that an awareness of one's ignorance is an essential element of innovative behavior are key elements to Uldrich's work as a futurist. He says, "Innovation that stems from unlearning, simply put, leads to greater productivity and more often than not, increased longevity as well."
The School of Unlearning, founded by Uldrich in 2004, is an international leadership, change management, and technology consultancy dedicated to helping businesses, governments, and non-profit organizations prepare for and profit from periods of profound transformation.
As a regular speaker for ag-based audiences like the Minnesota Dairy Council, Agricultural Production Executives Association, Ag Partners, O'Lakes, Case IH, AgGateway, and the California Ag Summit, Uldrich has his finger firmly on the pulse of these rapid shifts affecting the world of agriculture.
Uldrich says Big Data, prescriptive planting, precision farming, GMOs, and robotics are just a few of the game-changing trends in agriculture today.
Parties interested in learning more about Uldrich's keynote to the Dairy Business Association, his books, daily blog or his speaking availability are encouraged to visit his website.
Source: Jack Uldrich & The School of Unlearning
Share: