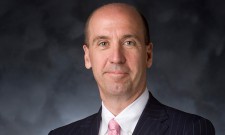 Futurist Jack Uldrich spoke to industry leaders via live webinar yesterday about how to be more "future-proof"
MINNEAPOLIS, January 22, 2019 (Newswire.com) - Global futurist and best-selling author Jack Uldrich spoke to leaders with 3SI Security Systems yesterday via live webinar. 3SI Security Systems is a world leader in asset protection systems, and Uldrich shared his research and insights on the trends and technologies that are shaping the future of the security industry. These included advancements in artificial intelligence, blockchain technology, autonomous vehicles, new connected devices, and recent developments in drones and other robotics.
Uldrich's in-person keynotes and live webinars focus on leadership, emerging trends and technologies, and how executives and other leaders can "future-proof" their businesses in a time of rapid change. According to Uldrich, "Powered by rapidly emerging and converging technologies, the world today is changing faster than ever. These changes are happening worldwide, and not one of the industries I address is immune to the shifts."
Live webinars are a compelling option when the audience is in multiple locations throughout the United States or internationally or when scheduling conflicts would otherwise prevent participation in the meeting or event. Live webinars also offer the benefits of eliminating travel expenses and removing any concern about inclement weather or other unexpected travel delays.
Whether speaking to an audience in-person or online, Uldrich believes that his role as a futurist includes helping others recognize how fast the world is changing and showing them ways to "think like a futurist" when planning for an uncertain tomorrow.
He says, "Thinking like futurists revolves around these basic tenets: understanding the trends transforming the world of tomorrow; taking action in the face of uncertainty; developing an appreciation for humility and embracing the concept that unlearning is as important as learning when it comes to future trends."
In his customized presentations, Uldrich frequently talks not just about the importance of being aware of new technology, but also the ability to unlearn old ways of doing things that may no longer be relevant in our fast-changing world. A big part of future-proofing is recognizing that "business-as-usual" may not be an acceptable strategy in the future. With this in mind, Uldrich encourages leaders to consider the following: "You can either be humble about the future or be humbled by the future."
Uldrich is the author of 11 books, including The Next Big Thing is Really Small: How Nanotechnology will Change the Future of Your Business and Jump the Curve: 50 Strategies to Help Your Company Stay Ahead of Technology. He is also an ongoing contributor on emerging technologies and future trends for publications including The Wall Street Journal, Forbes, Wired Magazine and BusinessWeek.
Uldrich is a frequent speaker on technology, change management and leadership and has addressed corporations, associations and not-for-profit organizations on five continents. He speaks over 100 times each year, specializing in the transformation of health care, agriculture, education, energy, finance, retail, and manufacturing.
To learn more about Jack Uldrich, his books, his writing, or his speaking availability, please visit his website.
Source: Jack Uldrich & The School of Unlearning
Share: