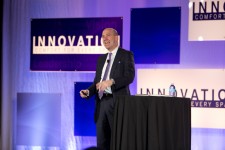 Finance Futurist Jack Uldrich to share his insights on the opportunities and challenges that this could create for financial institutions and insurance providers.
TORONTO, November 28, 2018 (Newswire.com) - ​Best-selling author Jack Uldrich will be speaking to leaders at TD Insurance today about the opportunities and challenges that a rapidly changing world could create for the banking and insurance industries. In his presentation, Uldrich will identify emerging technologies that are reshaping the future of banking and insurance and how executives can "future-proof" their businesses amidst all this change.
The many trends and technologies that Uldrich believes will have a profound impact on these industries over the next decade include blockchain technology, artificial intelligence, big data, peer-to-peer lending, the internet of things, the sharing economy, and advanced workforce automation platforms and tools.
You can either be humble about the future, or be humbled by the future.

Jack Uldrich, Finance Futurist Jack Uldrich
Uldrich says, "Every business leader feels it and knows it — the world is changing at an accelerating pace. Business models are shifting, consumer behaviors and preferences are evolving swiftly. In such an environment, it's hard to look ahead to the next quarter, let alone the next year. Still, business leaders must position their companies for continued success."
Rapid change can be difficult to navigate, and business leaders are often unwilling to "unlearn" certain things about their industry that are no longer relevant. "In fact, we may not even realize we have anything to unlearn," he said. Uldrich believes that the reason so many businesses experience disruption isn't simply because they didn't see the change coming; it is because they couldn't let go of their assumptions soon enough, in other words, they couldn't unlearn fast enough.
Uldrich continues, "It is also not enough to deeply understand how one technology works. You have to understand how multiple technologies will converge to spin off to create new opportunities. The work I do is all about helping organizations prepare for the coming technological changes so that they can efficiently navigate and determine the course of their future."
According to Uldrich, "You can either be humble about the future, or be humbled by the future."
In each of his presentations, Uldrich shares specific actions that leaders can take to better "future-proof" their organizations. These actions include finding a "reverse-mentor" to gain a different generational perspective, conducting a "pre-mortem" for your business to address potential challenges before they happen, and taking a "think week" to focus on the future. These actions can be beneficial regardless of what trends and technologies emerge.
Uldrich is a prolific speaker on future trends in finance and insurance. He speaks at over 100 events globally each year, including for some of the biggest names in these industries. His clients in the financial and insurance sectors include Institutional Investor Institute, Blue Cross Blue Shield, Banamex, Global Atlantic, Invesco, Thrivent, Atlantic Trust, United Healthcare, Wells Fargo, Segal Rogerscasey, Stockbridge and Questar Capital.
Parties interested in learning more about Jack Uldrich, his books or his speaking availability are encouraged to visit his website.
Source: Jack Uldrich & The School of Unlearning
Share: