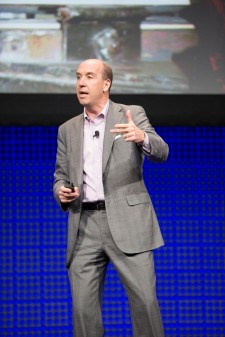 Futurist Jack Uldrich will be sharing his insights on the future of banking, wealth management, manufacturing, and agriculture in the month of September 2017.
MINNEAPOLIS, September 1, 2017 (Newswire.com) - Internationally-acclaimed futurist and best-selling author Jack Uldrich will be presenting seven keynote speeches nationally and internationally throughout the month of September.
Uldrich, who is the founder of The School of Unlearning, dedicates himself to helping businesses, governments, and nonprofit organizations prepare for and profit from periods of profound transformation.
Thinking like a futurist involves appreciating how the world of tomorrow is changing. Far too often companies are fixated on issues that are front and center, or at times, they are stuck dealing with issues from the past. They aren't taking time out to reflect on what the future will hold in store.

Jack Uldrich, Futurist & Founder of The School of Unlearning
"Powered by rapidly emerging and converging technologies, the world today is changing faster than ever," says Uldrich. "These changes are happening worldwide, and not one of the industries I address is immune to the shifts."
According to Uldrich, "New advances in technology bring forth exciting discoveries every day. But often lost in this new reality is the fact that organizations must unlearn old, obsolete knowledge and old ways of doing business before they can seize tomorrow's opportunities."
Uldrich's events in the months of September include:
September 6 - FCC Services, Great Falls, Montana
September 13 - Ansell, Ho Chi Minh City, Vietnam
September 19 - American Foundry Society, Stowe, Vermont
September 26 - Atlantic Trust, Denver, Colorado
September 27 - Atlantic Trust, Chicago, Illinois
September 28 - Private Financial Services Company, Washington D.C.
September 29 - Leading International Bank, Toronto, Ontario, Canada
His increasing popularity as a keynote speaker and panelist has taken him from global venues in Sydney, Australia; Kuala Lumpur, Malaysia; Brussels, Belgium; Mexico City, Mexico and most recently Johannesburg, South Africa. He also has spoken in all 48 contiguous United States and Hawaii.
Parties interested in learning more about Jack Uldrich, his books, his daily blog or his speaking availability are encouraged to view his website.
Source: Jack Uldrich & The School of Unlearning
Share: